200 Hour Transformational Yoga Teacher Training in Rishikesh India
200 HOUR TRANSFORMATIONAL YOGA TEACHER TRAINING
Welcome for 200 Hour Transformational Yoga Teacher Training in Rishikesh at Yoga Essence on the foothills of Sacred Himalaya and Divine Ganga.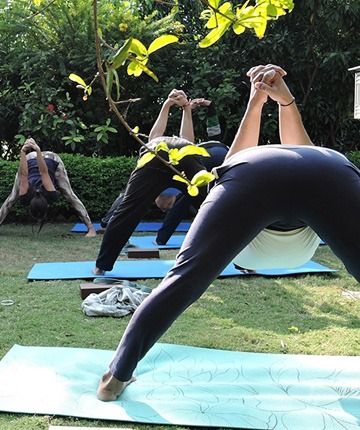 OVERVIEW:
200 Hour Transformational Yoga Teacher Training Rishikesh India Certified by the Yoga Alliance
LOCATION:
Yoga Essence, Tapovan (100 meters from Ganga River), Near Dewa Retreat, Rishikesh. India
COURSE DATES:
02nd Apr - 26th Apr 2020
02nd May - 26th May 2020
02nd Jun - 26th Jun 2020
02nd Jul - 26th Jul 2020
02nd Aug - 26th Aug 2020
02nd Sep - 26th Sep 2020
02nd Oct - 26th Oct 2020
02nd Nov - 26th Nov 2020
02nd Dec - 26th Dec 2020
02nd Feb - 26th Feb 2021
02nd Mar - 26th Mar 2021
02nd Apr - 26th Apr 2021
02nd May - 26th May 2021
02nd Jun - 26th Jun 2021
02nd Jul - 26th Jul 2021
PRICE:
For Shared Room: 1299 USD Now : 1199 USD
For Private Room: 15 USD Per Day Now : 10 USD Per Day
* Price include accommodation, food and course material.
Highlights Of 200 Hour Transformational Yoga Teacher Training Course in Rishikesh:
Experience the true essence of Yoga, Meditation and Yoga Nidra.
Release deep rooted physical, mental, emotional stress & tension.
Learn how to bring true meaning and purpose into your life.
Become Yoga Alliance USA accredited Yoga Teacher.
Take your yoga practice and yoga teaching skills to next level.
Develop the skill of holistic health and life transformational coaching
Get bonus additional Yoga Nidra Training and Certification.
Get special additional 50 hour Yoga Nidra Teacher Training Certification.
Overview of 200 Hour Transformational Yoga Teacher
Training Course in Rishikesh India
Yoga is the union of Body, Mind and Spirit
Looking to transform your body, breathe, mind, heart, and soul? Look no further than an immersive Transformational Yoga teacher training course.
Our 200 Hour Transformational Yoga teacher training course is a 25 day program that gives students a platform to experience deep transformations in life. With the help of traditional and contemporary yogic practices, the transformation happens at gross to subtle layers of our existence—from body and breathe, to mind, heart and consciousness. By working through these innermost layers, we open ourselves up to experiencing many new dimensions of our life. The process rejuvenates us and helps us feel refreshed, relaxed, and deeply rested. In this deeply relaxed state, one can gain more clarity into their life, seek for deeper truth, and find the answers they have been searching for. This transformational yoga teacher training course will take your yoga and meditation practices to the next level and bring profound understanding of numerous higher yogic techniques and tools. Whatever your background or level of yoga practice, our 200 Hour Transformational Yoga teacher training course will help you soar above the limitations of your body-mind and enter into a higher state of consciousness!
Art of Living: Living the Life Skillfully
200 hour Transformational yoga teacher training course includes the topic Art of Living and imparts the insights on the following life questions:
How to integrate & harmonize our life energies?
How to live the life in its full depth & dimensions?
How to manifest our unique potentials of life?
How to live a life full of joy, peace, love, compassion?
Our 200 Hour Transformational Yoga Teacher Training Course has been scientifically and systematically designed to help students:
Experience deep sense of relaxation by releasing tensions and energy blocks
Transform negative thoughts and emotions into positive and creative energies.
Develop skills to navigate complex and stressful situations in life.
Experience the joy of liberated energy and peaceful living.
Take responsibility of self-healing and happiness.
Deepen self-awareness and intuitive sense.
Enhance self-acceptance and self-esteem.
Connect to inner wisdom and life purpose.
Our intensive transformational yoga course is designed to apply yogic practices into the core areas of our life to achieve better balance of body, mind, and emotions. The immersive practices give space to look at complex issues of life in new and unique ways. The course also provides deep insights of enlightened Yogis on the following specific life topics:
Body-Mind Balancing
Tension and Relaxation
Intelligence and Creativity
Aloneness and Togetherness
Right and Wrong
Love and Relationships
Art of Living
270 HOURS- TWO CERTIFICATIONS
Bonus Training of Yoga Nidra and Meditation
Students who enroll in the 200 Hour Transformational Yoga Teacher Training program receive an additional 50 hour Yoga Nidra Teacher Training certification which will allow them to teach Yoga Nidra sessions around the world. The 50 hour Yoga Nidra Teacher Training certification is accredited through Yoga Alliance USA and includes:
30 hour experiential session of Yoga Nidra to deepen the healing and relaxation of body, mind, and heart.
20 hour theory classes of Yoga Nidra to impart a thorough understanding of the entire process in stepwise methodology.
20 hour meditation training:
Students who enroll in the Transformational Yoga Teacher Training program receive additional 20 hours meditation training sessions. This meditation training allows students to deepen their meditation practice and incorporate meditation techniques into their Yoga sessions; students learn and experience many contemporary and ancient meditation practices of different traditions, paths, and schools. Please note that the meditation training does not award an additional meditation certification; its purpose is to supplement students' meditation practice and enrich their teaching practicum.
After completion of Transformational Yoga teacher training course, students are awarded with:
Certification of 200 Hour Yoga Teacher Training
Certification of 50 Hour Yoga Nidra Teacher Training
Additional 20 Hour Meditation Teacher Training
Styles of 200 Hour Transformational Yoga Teacher Training Course
Transformational Yoga
Hatha Yoga
Nidra Yoga
Mantra Yoga
Karma Yoga
Raja Yoga
Nada Yoga
Kundalini Meditation
Mindfulness Meditation
Osho Active Meditation
Vipassana Meditation
And more!
Yoga students of all backgrounds and levels who have a desire to become yoga teachers and wish to get internationally recognized RYT-200 Yoga teaching qualification
Students who do not wish to become yoga teachers but have a sincere longing to deepen their understanding and experience of yoga, yoga nidra and meditation.
Students who want to deepen their inner journey, self-growth and transformation of their life as a whole.
Silent Days During the Course:
At Yoga Essence Rishikesh, students will learn a new language: the language of silence. Silence brings great clarity to the mind and allows us to go deeper into our inner journey and transformation. The participants of our Hatha Yoga Teacher Training course will observe 7 days of silence (at two different time points) to intensify the experiential and transformational process of advanced yogic practices and the course itself. This silent period has been designed to provide an opportunity for the students to experience inner silence, peace and individual growth.
What's Included in the Course Fee:
Hotel accommodation in a *single or shared room with private bath and AC
3 nourishing Yogic and Sattvic meals per day homemade fresh with local flavors and seasonal ingredients
100+ page in-depth Course Manual which outlines applied yoga philosophy, details over 25+ meditation techniques and their practice, mantras and their meanings, suggested reading materials, and more.
Hardcover textbook on Meditation
Hardcover textbook on Yoga Nidra
25 GB of course materials including music soundtracks for 20+ meditation techniques, mantras, Kirtans, guided meditations, PDF versions of books on meditation and yoga, yogic quotes and discourses, meditation demo videos, and much more.
Yoga Nidra script and guided meditation track
Ongoing support and feedback from meditation teachers
Guided meditative nature walks
*Private room incurs extra fee of $10/night
Special Gesture for the student:
Suggestion:
Swami Dhyan Samarth, the Lead Meditation Teacher normally suggests to the students to stay at least one night more after the finish of the course to spend time with Himalayan Nature for absorbing the transformative yogic practices in a relaxed calm way. It helps greatly for the preparation of the outer journey which is very important after intensive long practices and inner journey.
Note:
With a special gesture to the 200 hour Teacher Training students for their peaceful conclusion of the intensive inner journey, Yoga Essence allows staying extra 2-3 nights after the finishing of the course without any charge towards accommodation & food. It is a gift from Yoga Essence to their loving students.
Syllabus Of 200 hour Transformational Yoga Teacher
Training Course At Yoga Essence Rishikesh
Daily Schedule of 200 Hour Transformational Yoga
Teacher Training Course
| Time | Activity |
| --- | --- |
| 06:00 am | Herbal Detox Tea |
| 06:30 am | Asana Practice |
| 07:45 am | Pranayama & Mantra Chanting |
| 08:30 am | Breakfast |
| 09:50 am | Supportive Meditation Practices for Yoga Nidra |
| 11:15 am | Yoga Philosophy & Psychology/Yoga Nidra Theory |
| 12:30 pm | Lunch |
| 01:00 pm | Yoga Anatomy |
| 02:00 pm | Self Study & Rest |
| 03:30 pm | Hatha Yoga Practice & Teaching Practicum |
| 05:00 pm | Herbal Tea |
| 05:30 pm | Meditation (Trataka/Mantra/Kirtan/Satsang)/Yoga Nidra |
| 07:00 pm | Dinner |
| 08:00 pm | Q&A Session/Teaching Practicum/Inner Journey Guidance |
| 09:30 pm | Light Off & Rest |
Please Note: – The daily schedule is subject to change
More Details Of 200 Hour Transformational Yoga Teacher Training Course:
Reinvigorate Mind, Body & Soul
Words from the hearts of our students
Join our demo class for free!