100 HOUR MEDITATION TEACHER TRAINING
Welcome for 100 Hour Meditation Teacher Training Course in Rishikesh at Yoga Essence on the foothills of Sacred Himalaya and Divine Ganga.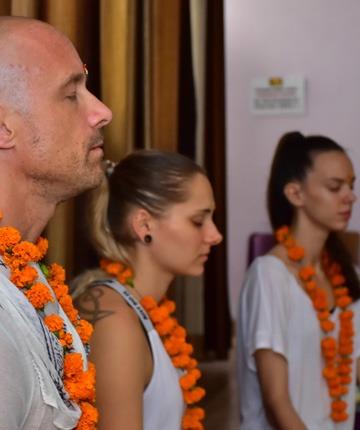 OVERVIEW:
100 Hour Meditation Teacher Training Rishikesh India Certified by the Yoga Alliance
LOCATION:
Yoga Essence, Tapovan (100 meters from Ganga River), Near Dewa Retreat, Rishikesh. India
COURSE DATES:
02nd Apr - 15th Apr 2020
02nd May - 15th May 2020
02nd Jun - 15th Jun 2020
02nd Jul - 15th Jul 2020
02nd Aug - 15th Aug 2020
02nd Sep - 15th Sep 2020
02nd Oct - 15th Oct 2020
02nd Nov - 15th Nov 2020
02nd Dec - 15th Dec 2020
02nd Feb - 15th Feb 2021
02nd Mar - 15th Mar 2021
02nd Apr - 15th Apr 2021
02nd May - 15th May 2021
02nd Jun - 15th Jun 2021
02nd Jul - 15th Jul 2021
PRICE:
For Shared Room: € 799 Euro Now : € 729 Euro
For Private Room: € 14 Euro Per Day Now : € 09 Euro Per Day
* Price include accommodation, food and course material.
Introducing 100 hours Online Meditation Teacher Training
Looking at the current situation & non-availability of residential meditation training, we are offering 100 hours Online Meditation Teacher Training from Sep 2020 onwards. All the sessions of the training will be led by Swami Dhyan Samarth via live zoom audio & video streaming.
For details, please visit 100 hours Online Meditation Teacher Training
Highlights of 100 Hour Meditation Teacher Training Course:
Relax, Heal and Transform Your Body, Mind, Heart and Soul.
Bring Inner Richness of Love, Compassion and Creativity into your life.
Learn how to encompass Peace, Harmony and Holistic Health into your Life.
Become a Trained Certified Meditation Teacher recognized by Yoga Alliance, USA.
Take your meditation Practice, inner journey and the skill to share with others to next level.
Experience the yogic energy vibration of Rishikesh, the foothill of Himalaya Consciousness of India.
Overview of 100 Hour Mindfulness Meditation
Teacher Training Course in Rishikesh India
In our life, we are continuously looking outside for our joy and fulfillment. By our surroundings, we have been conditioned to believe that outer attainments can give us what we want in life. Yet, again and again, our experiences and observations remind us that nothing external can completely fulfill and satisfy our life. Knowingly or unknowingly we are continuously looking for the solution of Body, Breath, Mind and Heart issues. Usually, we repress them or trying to replace them with positive ones or dump them on someone else. However, we don't have any access to the main source of answers unless we look within.
Meditation is considered to be the most powerful tool in the field of yoga to connect within and also to experience the union with reality as yoga talks about. This meditative awareness or observation becomes the central thread or core practice of all eight limbs of yoga.
Yoga Essence Rishikesh provides a solid platform to experience the state of meditation and also find out the source of answer to important issues of life with help of huge varieties of meditation practices from different traditions and paths, Mantra Chanting, Kirtan, practical application of Yoga Philosophy, psychology etc. through 100 hour meditation teacher training course. Our 100 hour Meditation teacher training course mainly focused on experiential and transformational aspect along with imparting the skill and methods to teach the meditation practices to others. These meditation practices are normally taught by combining both the core principles of yogic science and modern medical science to make it complete, systematic and contemporary.
Practice Styles of 100 hour Meditation Teacher Training
Trataka Practices
Mantra practices
Chakra Practices
Kundalini Practices
Nada Yoga Practices
Hatha Yoga Practices
Mindfulness Practices
Osho Meditation Practices
Meditation Practices of Shiva
Meditation Practices of Buddha
Meditation Practices of Patanjali
In this 100 hour meditation teacher training course you will experience and be trained in many different meditation techniques and exercises, Yoga Practices that have been developed or recommended by Yogis, Shiva, Buddha, Contemporary masters like Gurdjieff, Osho and Sufi Mystics along with Self-Growth techniques. At the beginning of the course, the students would undergo nine days of practice focusing more on experiential and transformational aspect. For this, we use many active meditation practices from Osho and other modern mystics to release the accumulated stress, tensions of body and mind. These active meditation prepares powerful foundation to experience many passive and traditional meditation practices that comes after nine days of the course.
Some of the techniques and exercises are more active, others more passive; some are done with a partner, some alone, some are as group. Some techniques use the senses like sight, sound, touch – and all will help you to connect with your inner world. This will involve consciously exploring the possibilities beyond the familiar center that you live in and function from. You will need to be open to and welcome the new dimensions of life that will begin to unfold and manifest as you move within. And, all these methods are done in a non-serious and joyful way so that you will enjoy the learning process and transformation.
MEDITATION TEACHES THE SECRET OF ALCHEMY
How to transform the misery and painful emotions into more creative and nourishing energies.
How to take responsibility for our own healing and happiness in everyday life.
How to get clarity of mind to take decisions even in complex and stressful situations of life.
How to experience the joy of liberated energy, the joy of living a whole life; a life of totality.
How to increase our ability to deepen your self-awareness and strengthen our intuitive power.
How to improve our skill to relate with all that surrounds us.
How to connect to our inner wisdom and life purpose.
Certification of 100 Hour Meditation Teacher Training Course
YOGA ESSENCE Rishikesh is an affiliated Yoga school of Yoga Alliance (RYS) and also Continuing Education Provider (YACEP). At the end of the training, you will get completion certificate of 100 Hours Meditation Teacher Training. This certification is valid and acknowledged all over world for teaching meditation. We follow the basic principles and ethics of teaching standard of Yoga Alliance to make the courses more professional and experiential.
Meditation Practices on "Chakras & Kundalini"
Advanced Meditation Practice becomes easier and effective when we work deeply on Energy Body i.e. Pranamaya Kosha. Kundalini, Chakras and Nadis are the prime and most essential components of the Energy Body (Pranamaya Kosha). For the inner journey the study of energy anatomy and their effect on physical, mental, and spiritual levels are needed to understand Chakras, Kundalini and Nadis and helpful to experience meditation practices relating to them. Our 100 hour Meditation Teacher Training course includes many meditation practices on chakra and kundalini to balance, unblock, re-align and activate them. These meditation techniques based on sound, breathing, guided instructions, visualization and mantras that intensify the awareness and awakening of the different chakras and kundalini.
Meditation Practices from "Patanjali Yoga Sutra"
Yoga is systematic science of the inner world and higher consciousness. Patanjali is the scientist of the religious world, the mathematician of mysticism, the logician of the illogical. His Yoga Sutras; a collection of aphorisms, is a step by step guide to the path of yoga outlining the practical map of the eight limbs of yoga. These Sutras are the seeds of wisdom providing us the key insights and guidelines for practice of yoga. During this 200 hours Mindfulness Meditation Teacher training course, you will learn some important meditation practices and key insights from Patanjali Yoga Sutra to deepen your understanding and experience of yoga.
Meditation Practices from "Vigyan Bhairav Tantra"
This 100 hour Meditation Teacher Training Course also covers few powerful meditation practices from "Vigyan Bhairav Tantra" the most ancient text on Meditation containing 112 Meditation Techniques given by Lord Shiva. The word "Vigyana" means 'consciousness', "Bhairava" means 'the state which is beyond consciousness', and "Tantra" means 'the method'. Hence Vigyan Bhairav Tantra means the method of going beyond consciousness. Vigyan Bhairav Tantra is all inclusive and first practical Manual in world of meditation and also called as Encyclopedia of Meditation Techniques. It is said that it is impossible for anybody not to find a technique suitable to his own level of spiritual development and inner temperament out of 112 techniques of Vigyan Bhairav Tantra.
"Silent Days during 100 hour Meditation Teacher Training Course"
In the middle of the 100 hour meditation teacher training course, the participants will undergo into a 5 days of silence to enhance the experiential of mediation practices and transformational aspect of life. During these silence days the students will focus and absorbed into their practices and cannot communicate with the outside world including phone call/texts, social media and so on. The silent days are for personal growth and inner journey hence we require sincerity on it but it is not mandatory.
Meditation in Nature, Himalayan Mountains and Sacred Place
Rishikesh is an entry to Deep Himalayas and a gateway to those seeking to go deep into their inner journey. It is known as "Tapo-Bhumi" meaning the practicing land of yoga and meditation of many Sages and Saints since ancient times. Thousands of sages and saints have visited Rishikesh to meditate in search of higher knowledge and Self-realization. The yogic energy fields and its vibration, the spiritual power of Rishikesh makes our inner journey easier and faster like going with the flow of a river, not against it. It can be felt easily by every seeker on the path. During our 100 hour meditation teacher training course, the participants will get the opportunity to visit and meditate in nearby sacred Place, on the bank of river Ganga, Cave, Mountain, and Nature to experience the true yogic energy field and vibrations of Rishikesh under the instructions and guidance of the teacher.
Daily Schedule of 100 Hour Meditation
Teacher Training Course
| Time | Activity |
| --- | --- |
| 06:00 am | Herbal Detox Tea |
| 06:30 am | Yoga Asana Practice |
| 07:45 am | Pranayama & Mantra Chanting |
| 08:30 am | Breakfast |
| 09:50 am | Contemporary Meditation Practice |
| 11:15 am | Yoga Philosophy & Psychology/Yoga Nidra Theory |
| 12:15 pm | Classical Meditation Practices (Buddha/Patanjali) |
| 01:15 pm | Lunch& Rest |
| 02:30 pm | Self Study |
| 03:30 pm | Meditation Practice (Osho/Sufi/Vigyan Bhairav Tantra) |
| 05:00 pm | Herbal Tea |
| 05:30 pm | Meditation Practice (Trataka/Mantra/Kirtan/Satsang) |
| 07:00 pm | Dinner |
| 08:00 pm | Q&A Session/Teaching Practicum/Inner Journey Guidance |
| 09:30 pm | Light Off & Rest |
Please Note: – The daily schedule is subject to change
Above Course Fee includes the charges of the followings:
1) Accommodation in a Double sharing AC Room
2) 3 Yogic and Sattvic Meals and Tea
3) Tuition Fee of the Course
4) Course Manual, books and other study materials
More Details Of 100 Hour Meditation Teacher Training Course:
All aspirants are advised to carefully consider the time and resources required for the course before forwarding the application for the teacher training course. Advance deposit money to reserve the spot of the course is non-refundable. However, in case of emergencies and other unavoidable exigencies the Yoga Essence Rishikesh at its discretion permits students to go for any other scheduled course within 6 months. We therefore recommend that all applicants carefully examine their upcoming obligations so that they may be able to devote their full attention to the teacher training program.
Metal Water Bottle (you can also find here in nearby market)
Minimum 16GB memory stick/card to receive useful materials of the course.
We have necessary Yoga Props, but you are welcome to bring your own yoga mat.
Torch
Plug Adaptor
Reinvigorate Mind, Body & Soul
Words from the hearts of our students