Meditation Teacher Training in Rishikesh
50 Hour Yoga Nidra Teacher
Training & Certification
Free 3 Nights Accommodation & Food
Free 20+ GB Course Materials
Fresh Homemade Yogic & Sattvic Food
200 HOUR MEDITATION TEACHER TRAINING
Welcome for 200 Hour Meditation Teacher Training in Rishikesh at Yoga Essence on the foothills of Sacred Himalaya and Divine Ganga.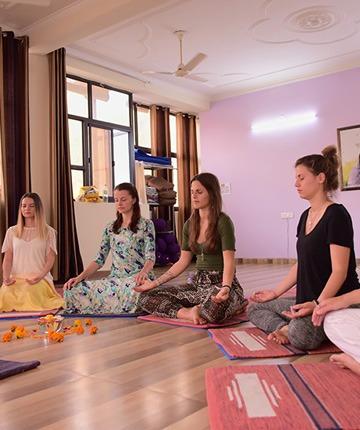 OVERVIEW:
200 Hour Meditation Teacher Training Rishikesh India Certified by the Yoga Alliance
LOCATION:
Yoga Essence, Tapovan (100 meters from Ganga River), Near Dewa Retreat, Rishikesh. India
COURSE DATES:
02nd Dec - 25th Dec 2019
02nd Jan - 25th Jan 2020
04th Feb - 27th Feb 2020
04th Mar - 27th Mar 2020
02nd Apr - 25th Apr 2020
02nd May - 25th May 2020
02nd Jun - 25th Jun 2020
02nd Jul - 25th Jul 2020
08th Aug - 31st Aug 2020
14th Sep- 07th Oct 2020
02nd Nov-25th Nov 2020
02nd Dec-25th Dec 2020
PRICE:
For Shared Room: 1499 USD Now : 1399 USD
For Private Room: 15 USD Per Day Now : 10 USD Per Day
* Price include accommodation, food and course material.
Highlights Of 200 Hour Certified Meditation Teacher Training Course At Yoga Essence Rishikesh
Experience the deeper Transformation & Healing of your Body, Mind, Heart, Soul.
Experience varieties of Ancient- Contemporary Meditation Practices of many Traditions.
Learn, Experience Scientific & Step by Step Methods of Yoga Nidra during Yoga Nidra training.
A unique opportunity to get higher Understanding & Experience on the Eight Limbs of Yoga.
In-depth study of Patanjali Yoga Sutra combining Yogic & Contemporary Wisdom
Enhance your Inner richness of Joy, Love, Compassion, Equanimity & Peace
Become a Certified Meditation & Yoga Nidra Teacher, Yoga Alliance USA
Overview Of 200 Hour Mindfulness Meditation
Teacher Training Course
Yoga is the union of Body, Mind and Spirit
Meditation is considered to be one of the most important practice as far as the integration of Body, Mind, Heart and Soul is concerned. Meditative awareness or mindfulness is the central thread of all the yogic practices. Meditation teaches how to balance the body-mind-emotion and bring more peace, harmony and joy into our life. It helps to find the solution of the core issues of the life by bringing greater clarity and understanding to all the situations and happenings. It teaches the secret of transformation and transcendence.
Yoga Essence Rishikesh provides a solid platform to experience meditation and meditative awareness. Our 200 hour meditation teacher training course focuses on the experiential and transformational aspects of meditation rather than simply delivering the practices in a technical way. During the first 2 weeks of the course, the students will learn and experience varieties of meditation practices covering many traditions both ancient and contemporary. It prepares the students to go deep within the layers of their body, breath, mind, and heart and experience the transformation.  During this period the students will receive the deeper insights on Ashtanga Yoga from Patanjali Yoga Sutra and learning the deeper science and mechanism of meditation practices. The last 10 days of the course basically focused on Yoga Nidra teacher training, teaching practicum of both meditation & yoga nidra. Through teaching practicum, the students will learn how to prepare the meditation modules for leading meditation classes, sessions, workshops, week-end retreats etc. The meditation practices are normally taught by combining both the core principles of ancient yogic science and modern science to make it complete, systematic and contemporary.
"Extra Beneficial Yoga Nidra Training and Certification"
Apart from the 200 hour Meditation Teacher Training, the students also receive an additional training of 50 hours of Yoga Nidra with certification of Yoga alliance USA. This extra yoga nidra training allows the students to learn, experience and develop the skill of yoga nidra, guided relaxation and guided meditation practices. This training includes yoga nidra practices of beginner to advanced, details study of step by step methodology of yoga nidra covering both ancient yogic and modern scientific point of view, preparing yoga nidra modules, yoga nidra script etc. To know more on yoga nidra teacher training please visit: Yoga Nidra Teacher Training Rishikesh India 
SPECIAL & ADVANCED MEDITATION PRACTICES:
"Chakras & Kundalini" Meditations
Our 200 hour Mindfulness Meditation Teacher Training course includes many meditation practices on chakra and kundalini based on Chakra Bija Mantra (Chakra Seed Sound), Breathing, Guided Affirmations and instructions, Visualization to bring more energy, awareness and understanding to vital energy centres (chakras) and the infinite energy source i.e. Kundalini.
Meditations From "Vigyan Bhairav Tantra"
"Vigyan Bhairav Tantra" is considered as the ancient most yogic text of Meditation containing 112 meditation techniques given by Shiva. It is all inclusive meditation manual in world of meditation. Our 200 hour meditation teacher training course also covers few powerful and advanced meditation practices from Vigyan Bhairav Tantra.
In-depth Study & Meditations on "Patanjali Yoga Sutra"
Patanjali Yoga Sutras are the seeds of wisdom providing us the key insights and guidelines of yogic practices. Our 200 hour meditation teacher training covers deeper concepts and insights on all the limbs of yoga i.e. Yama, Niyama, Asana, Pranayama, Pratyahara, Dharana, Dhyan & Samadhi as outlined in Patanjali Yoga Sutra to deepen your understanding and experience of yoga. You will also learn and practice some mediations based on Patanjali Yoga Sutra.
"Silent Days during the Course"
In the middle of the 200 hour meditation teacher training course, the participants will observe a 4 days of silence.  The silent days helps to see and understand many deep-rooted habitual patterns which contribute more stress and tensions into our life. It helps greatly to deepen the transformation of body-mind-heart and to go deeper into the mediation practices on Chakras, Kundalini and Nada Yoga. These days are for personal growth and teach us how to stay more relaxed, peaceful and joyful with ourselves.
Through our 200 hour meditation teacher training course, you will receive special insights on the art of living and covers the following life questions:
How to integrate & harmonize our life energies?
How to live the life in its full depth & dimensions?
How to live a life full of joy, peace, love, compassion?
How to manifest our unique qualities & potentials of life?
DOUBLE CERTIFICATIONS – 250 HOURS
200 Hour Meditation Teacher Training Certification Plus.
50 Hours Yoga Nidra Teacher Training Certification.
As our 200 hours Meditation teacher training course includes Yoga Nidra Teacher training, our 200h Meditation TTC students will get two certifications of Yoga Alliance. One certification is of 200 Hours Meditation Teacher Training and another certification is of 50 hours Yoga Nidra teacher training so that they can able to teach both meditation and yoga nidra all over the world.
Practice Styles of 200 hour Meditation Teacher Training
Nada Meditation
Mantra Meditation
Chakra Meditation
Kundalini Meditation
Vipassana Meditation
Raja Yoga Meditation
Yoga Nidra Meditation
Osho Active Meditation
Mindfulness Meditation
Vigyan Bhairav Tantra Meditation
Hatha Yoga
Karma Yoga
And more!
In this 200 hour mindfulness meditation teacher training course you will experience and be trained in many different meditation techniques and exercises, Yoga Practices that have been developed or recommended by Yogis, Shiva, Buddha, Contemporary masters like Gurdjieff, Osho and Sufi Mystics along with Self-Growth techniques. At the beginning of the course, the students would undergo nine days of practice focusing more on experiential and transformational aspect. For this, we use many active meditation practices from Osho and other modern mystics to release the accumulated stress, tensions of body and mind. These active meditation prepares powerful foundation to experience many passive and traditional meditation practices that comes after nine days of the course.
Some of the techniques and exercises are more active, others more passive; some are done with a partner, some alone, some are as group. Some techniques use the senses like sight, sound, touch – and all will help you to connect with your inner world. This will involve consciously exploring the possibilities beyond the familiar center that you live in and function from. You will need to be open to and welcome the new dimensions of life that will begin to unfold and manifest as you move within. And, all these methods are done in a non-serious and joyful way so that you will enjoy the learning process and transformation.
Who can join this 200 hour Meditation Teacher Training Course:
Students who want to become meditation teachers and wish to get internationally recognized meditation teaching certification.
Spiritual seekers who want to take their spiritual journey to the advanced level and wants to grow more in spiritual path but not interested to be a teacher.
Meditation practitioners, yoga lovers who wants to deepen their experience of meditation & yoga through many meditation practices and yoga nidra practices in a single package.
What's Included in the Course Fee:
23 Nights Shared or Private AC room accommodation with attached bath.
3 Yogic and Sattvic homemade fresh meals with local flavour's and seasonal ingredients.
150+ page in-depth Course Handbook which outlines details of meditation techniques, details of yoga nidra steps & scripts, applied yoga philosophy, mantras and their meanings, suggested reading materials, and more.
20+ GB of course materials including PDF versions of books on meditation, yoga, yoga nidra, audio tracks of guided relaxation practices, guided meditation practices, music sound tracks for meditation techniques, , mantras, kirtans, , yogic quotes and discourses, and much more.
Hardcover reference textbook on Meditation
Hardcover reference textbook on Yoga Nidra
Inner Journey Guidance & Q/A Sessions from the lead teacher Swami Dhyan Samarth
Ongoing support and feedback from teachers.
With a Loving Gesture to the Students:
Suggestion from the Lead Meditation Teacher: Swami Dhyan Samarth, the Founder & Lead meditation teacher normally suggests to the students to stay at least 1-2 nights more after the finish of the course to spend time with Himalayan nature to allow the experience and transformation to settle within deeply in a relaxed calm way. It helps greatly for the preparation of the outer journey which is very important after intensive long practices and inner journey.
With a loving gesture, Yoga Essence allows to continue the staying extra 3 nights after the finishing of the course without any charge towards accommodation & food. It is a gift from Yoga Essence to the inner journey of the students.
Syllabus Of 200 Hour Meditation Teacher Training
Course At Yoga Essence Rishikesh
Daily Schedule of Meditation Teacher Training Course
| Time | Activity |
| --- | --- |
| 06:00 am | Herbal Detox Tea |
| 06:30 am | Yoga Asana Practice |
| 07:45 am | Pranayama & Mantra Chanting |
| 08:30 am | Breakfast |
| 09:50 am | Supportive Meditation Practices for Yoga Nidra |
| 11:15 am | Yoga Philosophy & Psychology/Yoga Nidra Theory |
| 12:15 pm | Classical Meditation Practices (Buddha/Patanjali) |
| 01:15 pm | Lunch & Rest |
| 02:30 pm | Self Study |
| 03:30 pm | Meditation Practice (Osho/Sufi/Vigyan Bhairav Tantra) |
| 05:00 pm | Herbal Tea |
| 05:30 pm | Meditation (Trataka/Mantra/Kirtan/Satsang)/Yoga Nidra |
| 07:00 pm | Dinner |
| 08:00 pm | Q&A Session/Teaching Practicum/Inner Journey Guidance |
| 09:30 pm | Light Off & Rest |
Please Note: – The daily schedule is subject to change
More Details Of 200 Hour Meditation Teacher Training Course:
All aspirants are advised to carefully consider the time and resources required for the course before forwarding the application for the teacher training course. Advance deposit money to reserve the spot of the course is non-refundable. However, in case of emergencies and other unavoidable exigencies the Yoga Essence Rishikesh at its discretion permits students to go for any other scheduled course within 6 months. We therefore recommend that all applicants carefully examine their upcoming obligations so that they may be able to devote their full attention to the teacher training program.
Metal Water Bottle (you can also find here in nearby market)
Minimum 16GB memory stick/card to receive useful materials of the course.
We have necessary Yoga Props, but you are welcome to bring your own yoga mat.
Torch
Plug Adaptor
Reinvigorate Mind, Body & Soul
Words from the hearts of our students
Join our demo class for free!