Advanced 300 Hour Yoga Teacher Training Course Rishikesh, India
30 Hour Yoga Nidra Teacher
Training & Certification
Free 3 Nights Accommodation & Food
Free 20+ GB Course Materials
Fresh Homemade Yogic & Sattvic Food
ADVANCED 300 HOUR YOGA TEACHER TRAINING
Welcome for Advanced 300 Hour Yoga Teacher Training in Rishikesh at Yoga Essence on the foothills of Sacred Himalaya and Divine Ganga.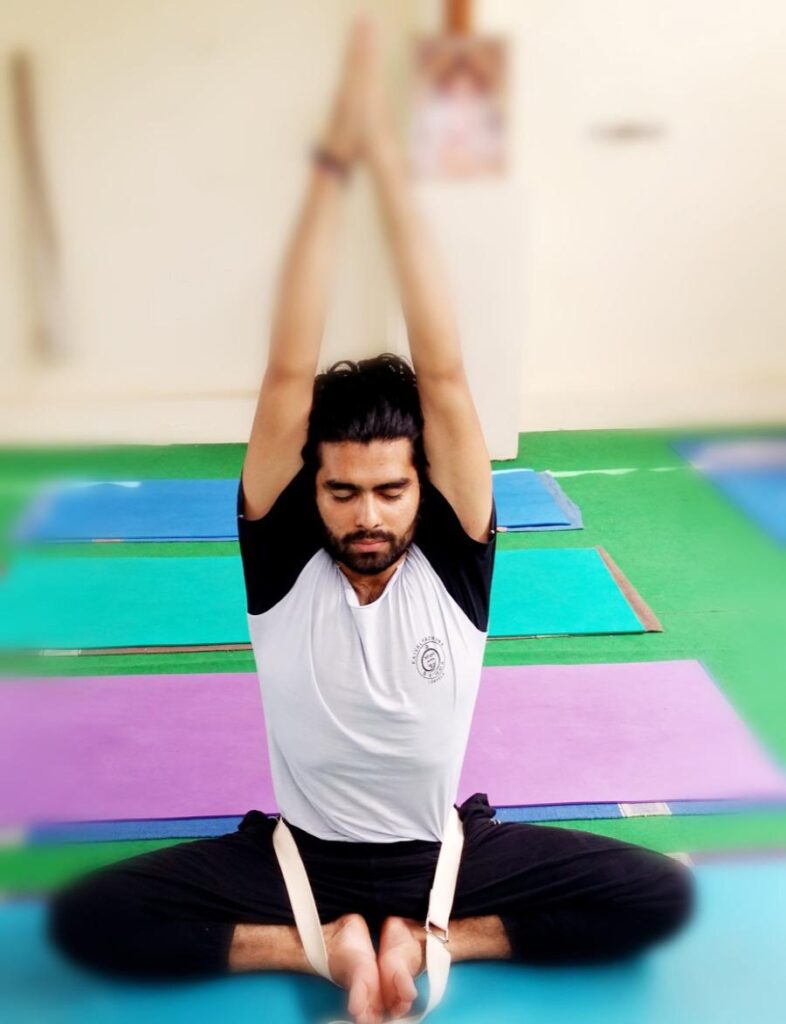 OVERVIEW:
Advanced 300 Hour Yoga Teacher Training Rishikesh India Certified by the Yoga Alliance
LOCATION:
Yoga Essence, Tapovan (100 meters from Ganga River), Near Dewa Retreat, Rishikesh. India
COURSE DATES:
02-28 Jul, 2019
02-28 Oct, 2019
02-28 Dec, 2019
02-28 Apr, 2020
02-28 July, 2020
02-28 Oct, 2020
02-28 Dec, 2020
PRICE:
For Shared Room: € 1549 Euro Now : € 1399 Euro
For Private Room: € 14 Euro Per Day Now : € 09 Euro Per Day
* Price include accommodation, food and course material.
Highlights of Advanced 300 Hour Yoga Teacher Training Course :
An unique opportunity to experience all the limbs of Yoga through one course.
Learn the systematic & scientific methodology of Yoga Nidra during Yoga Nidra training.
Experience and learn many ancient- contemporary meditation practices of different traditions.
In-depth study of Patanjali Yoga Sutra combining Yogic & Contemporary Wisdom
Get clarity & understanding of the Essence of all types of yogic practices.
Experience the deeper transformation of your Body, Mind, Heart and Soul.
Take your Yogic Journey to Next & Advanced Level.
Become a certified 300 hour Advanced Yoga Teacher affiliated to Yoga Alliance USA.
Overview of Advanced 300 hour Yoga Teacher Training Rishikesh
Yoga is the union of Body, Mind and Spirit
Yoga is a science of living. It is a way of holistic life. It is a very pragmatic and emperical science for the integration of Body, Mind, Heart and Soul. Yoga is not meta-physical, neither it is a philosophical. On the contrary, it is deeply rooted in existential and experiential aspects of our life. It establishes the very integration of our Body-Mind-Heart through numerous techniques and tools which are considered as the greatest by the Yogis and Rishis to the whole humanity. Our advanced 300 hour is a unique opportunity for the Yoga seekers and yoga practitioners to dive deeper into their yogic journey and experience the true integration.
Our Advanced 300 hour Yoga teacher training course mainly focuses on experiential and transformational aspects of body, breath, mind, and heart to attain higher consciousness. This course also well designed to take forward your spiritual journey to higher realm. It imparts deeper concepts and insights on eight limbs of yoga i.e. Yama, Niyama, Asana, Pranayama, Pratyahara, Dharana, Dhyan, and Samadhi. This course not only covers the concepts and insights on eight limbs of yoga but also covers numerous practices and techniques by uniting ancient yogic science, contemporary evolution of yogic practices and modern science. The practices deeply encompasses our modern lifestyle and growth. The key elements of our Advanced 300 hour Yoga Teacher Training are asanas, pranayama, yoga nidra, meditation and yoga philosophy in accordance with the contemporary point of view.
Yoga Nidra Teacher Training (Level 1):
Our 300 hour Yoga Teacher Training Course includes 30 hours of Yoga Nidra Training (Level-1) comprising yoga nidra practical, theory, preparing yoga nidra modules, yoga nidra script etc. This training course allows the students to learn and develop the skill to practice and to teach Yoga Nidra, guided relaxation and guided meditation.
To know more on yoga nidra teacher training please visit:
Ancient & Contemporary Meditation Practices on Breathing, Movements, Chakras, Kundalini etc:
Meditative Awareness and Meditation and Mindfulness practices are considered as the main higher yogic practices to deepen the transformation and inner journey. As Yoga Essence Rishikesh has great specialization on meditation training, students of our 300 hour yoga teacher training course will receive training of many ancient and contemporary meditation techniques based on breathing, body movements, sounds, chakras, kundalini etc. These meditation practices prepare solid foundation to experience higher energy level and mindfulness for the manifestation of potentials.
Double Certifications:
After the successful completion of 300 hour Yoga teacher training, our students get :
300 hours Yoga teacher training certificate affiliated to Yoga Alliance, USA .
Yoga Nidra training and Meditation training certificate of Yoga Alliance .
With help of the above certifications our students will able to teach both yoga, meditation and yoga nidra professionally and confidently all over the world.
What's Included in the Course Fee:
Fresh homemade Yogic and Sattvic meals with local flavors and seasonal ingredients.
Single or shared room accommodation with private bath and AC.
150+ page in-depth Course Handbook which outlines applied yoga philosophy, details of yoga nidra steps & scripts, details of meditation techniques and their practice, mantras and their meanings, suggested reading materials, and more.
Hardcover textbook on Asana, Pranayama
Hardcover textbook on Yoga Nidra
Hardcover textbook on Meditation
Hardcover textbook on Yoga Anatomy
20+ GB of course materials including PDF versions of books on yoga, yoga nidra, meditation, tracks of guided relaxation practices, music soundtracks for meditation techniques, , mantras, kirtans, guided meditations, yogic quotes and discourses, and much more.
Q/A Session, Inner Journey Guidance from the Lead Teacher (Swami Dhyan Samarth)
Ongoing support and feedback from teachers.
A Loving Gesture to the students:
Suggestion:
Swami Dhyan Samarth, the Lead Meditation Teacher normally suggests to the students to stay at least one night more after the finish of the course to spend time with Himalayan Nature for absorbing the transformative yogic practices in a relaxed calm way. It helps greatly for the preparation of the outer journey which is very important after intensive long practices and inner journey.
Note:
With a special gesture to the 200 hour Teacher Training students for their peaceful conclusion of the intensive inner journey, Yoga Essence allows staying extra 2-3 nights after the finishing of the course without any charge towards accommodation & food. It is a gift from Yoga Essence to their loving students.
Students of who have already completed 200 hour Yoga Teacher Training Course.
Students who wants to deepen their experience in yoga, meditation and yoga nidra in a single package.
Long time yoga practitioner who wants to take his yogic journey to the advanced level and wants to grow more in spiritual path but not interested to be a yoga teacher.
SYLLABUS OF ADVANCED 300 HOUR YOGA TEACHER TRAINING COURSE
AT YOGA ESSENCE RISHIKESH
Daily Schedule of Advanced 300 Hour Yoga
Teacher Training Course
| Time | Activity |
| --- | --- |
| 5:45 am | Herbal Detox Tea |
| 6:00 am | Asana Practice |
| 7:20 am | Pranayama, Mantra/Meditation |
| 8:15 am | Breakfast |
| 9:30 am | Active Meditation Practice (Patanjali/Shiva/Osho) |
| 11:00 am | Applied Yoga Philosophy & Psychology, Yogic Lifestyle |
| 12:30 pm | Lunch Break |
| 1:15 pm | Yoga Anatomy and Physiology |
| 2:00 pm | Rest |
| 3:45 pm | Hatha Yoga/Ashtanga Yoga |
| 5:00 pm | Pranayama Practice |
| 5:30 pm | Herbal Drinks |
| 5:45 pm | Satsang |
| 6:45 pm | Dinner Break |
| 7:45 pm | Q&A Session, Inner Journey Guidance |
Please Note: – The daily schedule is subject to change
More Details Of Advanced 300 hour Yoga Teacher Training Rishikesh: