Yoga Teacher Training in Rishikesh
50 Hour Yoga Nidra Teacher
Training & Certification
Free 3 Nights Accommodation & Food
Free 10+ GB Course Materials
Fresh Homemade Yogic & Sattvic Food
200 HOUR YOGA TEACHER TRAINING
Welcome for 200 Hour Yoga Teacher Training in Rishikesh at Yoga Essence on the foothills of Sacred Himalaya and Divine Ganga.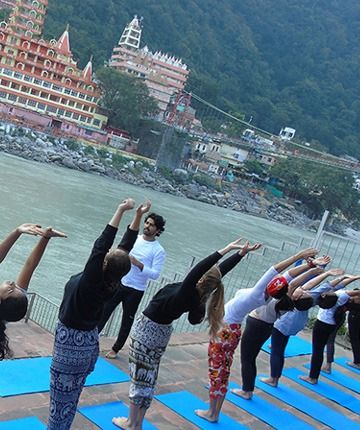 OVERVIEW:
200 Hour Yoga Teacher Training Rishikesh India Certified by the Yoga Alliance
LOCATION:
Yoga Essence, Tapovan (100 meters from Ganga River), Near Dewa Retreat, Rishikesh. India
COURSE DATES:
02nd Apr - 25th Apr 2020
02nd May - 25th May 2020
02nd Jun - 25th Jun 2020
02nd Jul - 25th Jul 2020
02nd Aug - 25th Aug 2020
02nd Sep - 25th Sep 2020
02nd Oct - 25th Oct 2020
02nd Nov - 25th Nov 2020
02nd Dec - 25th Dec 2020
02nd Feb - 25th Feb 2021
02nd Mar - 25th Mar 2021
02nd Apr - 25th Apr 2021
02nd May - 25th May 2021
02nd Jun - 25th Jun 2021
02nd Jul - 25th Jul 2021
PRICE:
For Shared Room: 1299 USD Now : 1199 USD
For Private Room: 15 USD Per Day Now : 10 USD Per Day
* Price include accommodation, food and course material.
Highlights of our Yoga Teacher Training Rishikesh:
Experience the science of Yoga in full depth and dimensions
Become a Yoga Alliance USA accredited certified yoga teacher
Learn systematic steps of Yoga Nidra and be a certified teacher
Take your Yoga and Yoga Nidra practice to next level
Learn the skill of peaceful, joyful and balanced life
Transform your body, mind, heart and soul
Experience the high yogic energy field of Rishikesh India
Overview of 200 hour Yoga Teacher Training Rishikesh
Yoga is the union of Body, Mind and Spirit
Yoga is a systematic science of the inner journey and to know our true Self. It shows us the path to integrate body, mind, and soul to experience the union with the universal consciousness. Yoga is a powerful energy science to experience the union of body, mind, and spirit. It is also a powerful tool for self-transformation. It explains a very systematic path for creating balance and uniting the opposite energies. It teaches the techniques and tools regarding the use of our body and breath creatively to explore the higher energy dimensions of life. Yoga Essence provides a solid platform to experience the pure form of yoga with many contemporary practices and outlook through 200 hour Yoga teacher training course in Rishikesh India.
Extra Beneficial "Yoga Nidra Teacher Training (Level 1)"
Students who enroll in the 200 hour Yoga Teacher Training course receive an additional special 50 hours Yoga Nidra Teacher Training and its certification affiliated to Yoga Alliance USA. It will allow them to learn the skill on how to teach yoga nidra session, guided relaxation session and guided meditation session around the world. This yoga nidra training includes experiential sessions of Yoga Nidra from beginners to advanced level to deepen the healing and relaxation of body, mind, and heart. And the theory classes of Yoga Nidra to impart a thorough understanding of the entire process in stepwise methodology. To know more on yoga nidra teacher training please visit:
Special Gesture for the student:
Suggestion:
Swami Dhyan Samarth, the Lead Meditation Teacher normally suggests to the students to stay at least one night more after the finish of the course to spend time with Himalayan Nature for absorbing the transformative yogic practices in a relaxed calm way. It helps greatly for the preparation of the outer journey which is very important after intensive long practices and inner journey.
Note:
With a special gesture to the 200 hour Teacher Training students for their peaceful conclusion of the intensive inner journey, Yoga Essence allows staying extra 2-3 nights after the finishing of the course without any charge towards accommodation & food. It is a gift from Yoga Essence to their loving students.
Two Certifications and 250 Hours Training Award:
After the successful completion of 24 days Yoga teacher training, our students get two certificates accredited from Yoga Alliance USA as follows:
Certification of 200 hour Yoga teacher training.
Certification of 50 hours of Yoga Nidra teacher training.
With help of this double certifications our students can teach both yoga and yoga nidra professionally and confidently all over the world.
Active Meditation Practices on Breathing, Chakras, Kundalini:
As Yoga Essence Rishikesh has also great specialization on meditation training, our 200 hour yoga teacher training course imparts some ancient and contemporary meditation techniques based on breathing, chakras, kundalini, sound, mindfulness body movement, etc. The students get a unique opportunity to practice and learn the meditation practices ranging from both active and passive which is very suitable to contemporary modern lifestyle. These meditation practices prepare the solid foundation to experience higher energy dimensions and mindfulness meditation for the manifestation of our potentials.
What's Included in the Course Fee:
Accommodation in a single or shared room with private bath and AC.
3 nourishing Yogic and Sattvic meals per day homemade fresh with local flavors and seasonal ingredients.
100+ page in-depth Course Manual which outlines applied yoga philosophy, details of yoga nidra steps & scripts, details of meditation techniques and their practice, mantras and their meanings, suggested reading materials, and more.
Hardcover textbook on Asana, Pranayama
Hardcover textbook on Yoga Nidra
Hardcover textbook on Yoga Anatomy
Around 10 GB of course materials including PDF versions of books on yoga, yoga nidra, meditation, tracks of guided relaxation practices, music soundtracks for meditation techniques, mantras, kirtans, guided meditations, yogic quotes and discourses, and much more.
Ongoing support and feedback from teachers.
Students of all yoga levels who wants to be a certified yoga teacher all over the world.
Students who wants to deepen their understanding and experience yoga and yoga nidra in a single package.
Students of all yoga levels who don't wish to become a yoga teacher, but interested to deepen their inner journey, Self-transformation, Self-growth etc.
SYLLABUS OF 200 HOUR YOGA TEACHER TRAINING COURSE
AT YOGA ESSENCE RISHIKESH
Daily Schedule of 200 Hour Yoga
Teacher Training Course
| Time | Activity |
| --- | --- |
| 06:00 am | Herbal Detox Tea |
| 06:30 am | Asana Practice |
| 07:45 am | Pranayama & Mantra Chanting |
| 08:30 am | Breakfast |
| 09:50 am | Supportive Meditation Practices for Yoga Nidra |
| 11:15 am | Yoga Philosophy & Psychology/Yoga Nidra Theory |
| 12:30 am | Lunch |
| 01:00 pm | Yoga Anatomy |
| 02:00 pm | Self Study/ Rest |
| 03:30 pm | Hatha Yoga Practice & Teaching Practicum |
| 05:00 pm | Herbal Tea |
| 05:30 pm | Meditation (Trataka/Mantra/Kirtan/Satsang)/Yoga Nidra |
| 07:00 pm | Dinner |
| 09:30 pm | Lights Off & Rest |
Please Note: – The daily schedule is subject to change
More Details Of 200 hour Yoga Teacher Training Rishikesh:
Reinvigorate Mind, Body & Soul
Words from the hearts of our students
Join our demo class for free!